tech-hub-foodtech-hub-foodtech-hub-foodOCME leads a great amount of exhibitions,
that will help us to perform our role of key-player around the world,
but also news about the real added value of our company,
Sharing our experience with the whole world.
News
WOMEN IN PACKAGING: FEMALE PROFESSIONALS IN THE INDUSTRY TELL THEIR STORIES AT ROBOPAC'S FIRST FORUM DEDICATED TO TALENTS
Chicago, USA, 24 October 2022
At Pack-Expo 2022, Women in Packaging, first forum dedicated to talents and in particular to the role and contribution of women in this sector, was held on October 24.
More info
News
Aetna Group among the 50 Top Enterprises in the Italian mechanical sector
Milan, Italy, 14 October 2022
On Friday, October 14, in Milan at the Sala Buzzati of the Corriere della Sera, Enrico Aureli and Valentina Aureli were interviewed by journalist Raffaella Polato (special correspondent L'Economia - Corriere della Sera) and Caterina Della Torre, project leader research Top Italian Companies 2022 and partner Special Affairs.
More info
Case studies
ENOITALIA CHOOSES OCME'S LGV AURIGA VEHICLES
OCME supplied Enoitalia with 11 automatic Laser Guided Vehicles (LGV) of the Auriga series, which includes two models.
More info
Case studies
Jafora entrusts OCME with palletizing and wrapping
Jafora is an important producer of soft drinks and juices from Israel, recognized worldwide for its technical expertise and its excellence in the research of the latest technological solutions for its plants.
More info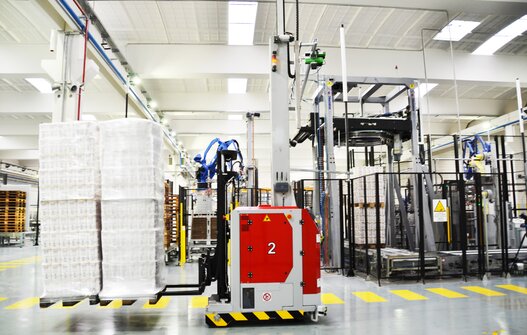 Case studies
Complete end-of-line for the tissue industry installed at FUTURA LINE
The customer's request was clear: to propose and design an automatic end-of-line system and logistic management of products on pallets, starting from a green field. OCME has been able to carry out this project by automating all the needs of the Italian Futura Line Group.
More info