OCME leads a great amount of exhibitions,
that will help us to perform our role of key-player around the world,
but also news about the real added value of our company,
Sharing our experience with the whole world.
Fair
MIAC 2023
Lucca, Italy, 13 October 2023
The paper and tissue industries are the protagonists of the trade fair in Lucca from 11th to 13th October 2023, in which Aetna Group participates with the main innovations for the end-of-line secondary packaging
More info
Fair
AETNA GROUP CLOSES INTERPACK 2023 WITH OPTIMISM FOR THE FUTURE AND A FOCUS ON SUSTAINABILITY AND CSR
Dusseldorf, Germany, 06 June 2023
Interpack 2023, the top event for the global packaging industry, ended with impressive numbers, demonstrating the dynamism, innovation and synergy that characterise this global industry: 143,000 visitors from 156 countries (60 per cent from outside Germany) and 2,807 exhibitors from 61 countries gathered in 18 halls of the huge Messe Düsseldorf trade fair district for a total of seven days.
More info
Conference
WOMEN IN PACKAGING: VALENTINA AURELI IS AT THE FOREFRONT OF INTERPACK 2023'S HIGHLIGHT EVENT
Düsseldorf, Germany, 08 May 2023
This year, within the context of the world's most important packaging event, interpack, the spotlight was focused on Women in Packaging, a panel discussion featuring five industry female leaders. An audience of more than 150 people attended the panel on 8 May, demonstrating that this is a hot topic that will continue to be discussed even after the Düsseldorf trade fair has concluded.
More info
News
Second 'women in packaging' seminar to raise awareness of women's potential in the packaging industry
Duluth, USA, 08 February 2023
Building on the success of the first "Women in Packaging - Meet and Greet" event at Pack Expo in Chicago, Robopac USA hosted 10 women from diverse backgrounds at its 2nd "Women in Packaging Seminar".
More info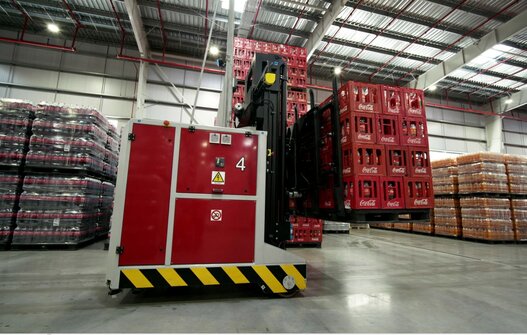 Case studies
THE COCA-COLA FEMSA DISTRIBUTION CENTRE IN URUGUAY RELIES ON OCME TO OPTIMISE LOGISTICS OPERATIONS
In collaboration with OCME, Coca Cola Femsa successfully implemented an advanced automated system based on Auriga 30 CT laser-guided vehicles for the management of the flow of empty bottles and finished products, demonstrating great expertise and a spirit of collaboration.
More info
Case studies
GOYA FOODS SPEEDS UP AN AND ROBOTISES ITS LINES WITH ROBOPAC AND OCME
The end of line system was designed and implemented using seven technological solutions, among the fastest and most advanced of the entire range of products available within the Group. Let us see which ones: Depalletisers, tray packers, palletisers and wrapping machines from OCME and Robopac.
More info
Case studies
CEPSA, OCME AND ROBOPAC TOGETHER FOR AN EFFICIENT END-OF-LINE IN TERMS OF PRODUCTIVITY AND SUSTAINABILITY
CEPSA turned to Aetna Group for its new lubricating oil packaging line in San Roque (Cadiz): automation, digitisation and attention to energy consumption are aspects that are fully reflected in this new state-of-the-art plant.
More info