OCME leads a great amount of exhibitions,
that will help us to perform our role of key-player around the world,
but also news about the real added value of our company,
Sharing our experience with the whole world.
Conference
Food and Beverage Innovation Forum FBIF 2023
Shenzhen, China, 14 June 2023
Food & Beverage once again in the spotlight at China's flagship trade fair, where Aetna Group consolidate its leadership for secondary and end-of-line packaging
More info
News
WOMEN IN PACKAGING: VALENTINA AURELI IS AT THE FOREFRONT OF INTERPACK 2023'S HIGHLIGHT EVENT
Düsseldorf, Germany, 08 May 2023
This year, within the context of the world's most important packaging event, interpack, the spotlight was focused on Women in Packaging, a panel discussion featuring five industry female leaders. An audience of more than 150 people attended the panel on 8 May, demonstrating that this is a hot topic that will continue to be discussed even after the Düsseldorf trade fair has concluded.
More info
News
Second 'women in packaging' seminar to raise awareness of women's potential in the packaging industry
Duluth, USA, 08 February 2023
Building on the success of the first "Women in Packaging - Meet and Greet" event at Pack Expo in Chicago, Robopac USA hosted 10 women from diverse backgrounds at its 2nd "Women in Packaging Seminar".
More info
News
AETNA GROUP JOINS THE "ITALIAN TECHNOLOGY AWARD" WELCOMING STUDENTS FROM THE USA AND MEXICO
Castel San Pietro, Italy, 17 January 2023
For the first time, Aetna Group joins the "Italian Technology Award" programme, the competition that rewards the best students from leading universities in the United States and Mexico with a one-week stay in Italy and Company visits aimed at their studies.
More info
Case studies
SANO INTERNATIONAL AND AETNA GROUP: TWO LEADERS IN THE TISSUE INDUSTRY MEET
Sano international is an Israeli company with a long and successful history behind it, which today manufactures and markets over 500 Home & Personal Care products worldwide. Innovation, sustainability and quality are the core of the company's business, which is conducted in three production plants in Israel and one in Romania.
More info
Case studies
Medina dairy and Freshways invest in Robopac end of line solutions
Since merging in 2021, with Medina Dairies Ltd, Freshways is now one of the UK leading dairy suppliers, with a number of UK facilities combining to process over 500 million litres of milk per year.
More info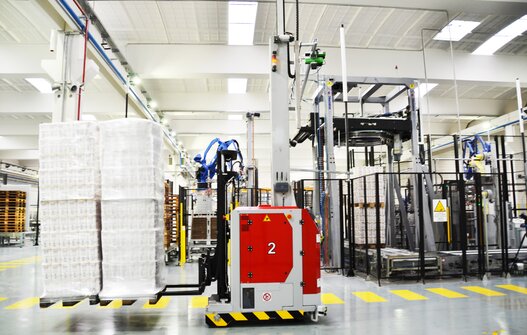 Case studies
Complete end-of-line for the tissue industry installed at FUTURA LINE
The customer's request was clear: to propose and design an automatic end-of-line system and logistic management of products on pallets, starting from a green field. OCME has been able to carry out this project by automating all the needs of the Italian Futura Line Group.
More info